2012 Laureate - Patrick G. Ryan
Founding chairman, chairman, and CEO
Ryan Specialty Group, LLC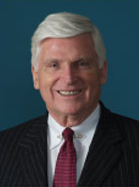 Patrick Ryan formed Ryan Specialty Group, LLC (RSG) in 2010. RSG is an international holding company specializing in wholesale brokerage, MGU/MGA underwriting, managers, and other specialty services to agents, brokers, and carriers. Today, RSG companies include R-T Specialty, LLC – the wholesale brokerage arm-and several MGU/MGA underwriting facilities which currently include ThinkRisk, Technical Risk Underwriters (TRU), CivicRisk, Concord Specialty Risk, Sapphire Blue, LifeScienceRisk, PER se, Global Special Risks, WKFC, and Jubilee Group Holdings Limited.
Prior to launching RSG, Ryan was the founder, retired chairman, and CEO of Aon Corporation-one of the world's largest insurance and reinsurance brokers. As an entrepreneur, he founded the company, which traces its origins to a small insurance agency organized in 1964. When he retired, the company had more than 500 offices in 120 countries, generating revenues then in excess of $7 billion.
One of Chicago's most visible business and civic leaders, Ryan has served as the chairman and CEO of the Chicago 2016 Olympic Committee. The Chicago Council on Global Affairs honored him with its Chicago Leadership Award for his contribution to building Chicago's international stature through corporate philanthropy, civic leadership, and business. He is also a member of the Chicago Business Hall of Fame, a member and past president of the Economic Club of Chicago, and a director of the Inner-City Teaching Corps.
Select Career tributes include: Insurance Leader of the Year by the College of Insurance; the Order of Lincoln Medallion, Illinois' highest award recognizing a lifetime of accomplishment; the Business Statesman Award, Harvard Business School Club of Chicago; the Distinguished Leadership Award of Chicagoland Chamber of Commerce; the Chicago History Museum's History Maker Award for Distinction in Corporate Leadership and Innovation; the Distinguished Citizen Award of Chicago Council of the Boy Scouts of America; the President's Medal from Loyola Academy; the Insurance Federation of New York's Free Enterprise Award; the Distinguished American Award from the Chicago Chapter of the National Football Foundation & College Hall of Fame; and the Gage Award for Outstanding Civic Contribution.
Ryan and his wife, Shirley, were awarded the Distinguished Philanthropist Award. The Ryans founded and are active in the Pathways Center and the Pathway Awareness Foundation, which are dedicated to serving the early detection and early intervention for babies to assure their best physical and sensory development.