George R. and Martha Means Center for Entrepreneurial Studies
Create Your Own Place in Business
Mission Statement
The George R. and Martha Means Center for Entrepreneurial Studies serves as the pivot of entrepreneurship in Illinois State University. We provide inspiration, education, networking, and assistance to entrepreneurially-focused students, faculty, and alumni. Lastly, we are dedicated to entrepreneurs' success (startup and corporate) and believe that they are the foundation of a robust economy.
Vision

Become a model of excellence that fosters the entrepreneurial sprint, either through startup or corporate entrepreneurship.

Mission

Create programs, platforms, and experiences that inspire, educate, and empower the next generation of entrepreneurs.

Culture

We are a team of dedicated educators who believe in being innovative, accountable, transparent, and inclusive.
Explore the George R. and Martha Means Center for Entrepreneurial Studies
Get to know what the George R. and Martha Means Center for Entrepreneurial Studies has to offer
The Means Center Accelerator program provides year-round support for Illinois State University student entrepreneurs.

The Startup Showcase is designed to link contestants to support resources and help them develop connections.
Advisory Board provides advice and support to the Center Director on the mission, vision, and programs.
George R. and Martha Means Historical Background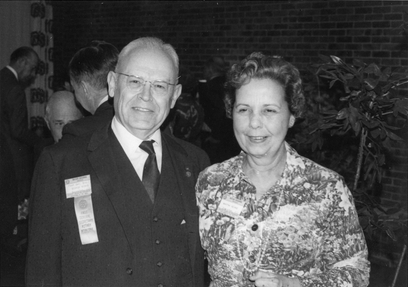 The George R. and Martha Means Center for Entrepreneurial Studies was established through a planned gift of the late George and Martha Means. The goal of the new center is twofold: to enhance academic and business experiences for students and to serve as a research and consulting resource for local businesses.
Bloomington native George Means '30 graduated from Illinois State Normal University (ISNU) with a bachelor degree in geography and a masters in geography from Clark University. He was a self-employed mapmaker and served as a cartographer in World War II, reaching the rank of commander. Hired by Rotary International in 1935, he served in several capacities and in 1953, was elected general secretary, becoming only the third top professional officer in the Rotary's history. George guided the Rotary to tremendous growth about nationally and abroad, including a triumphant return to Japan in 1949, a decade after the country had severed ties with the organization.
Martha also worked for Rotary International, which is where she met her spouse. She was active in every community they lived in, including Greenwood, Indiana where they lived with George's sister Margaret Means after they retired. Margaret coincidentally taught Peter Whitmer, a former gift officer in the Illinois State Development Office who worked with the Means as they considered a gift to the University.
Whitmer recalls that while he believed the Means' intention was always to choose Illinois State, they wanted to ensure the funds would be allocated to a worthy cause. In addition, they also established three geography funds and one scholarship in the Family and Consumer Sciences Department at Illinois State. Former College of Business Dean Dixie Mills and Robert Corbett, former chair of the Geography-Geology Department, also had a wonderful relationship with the Means. "(The Means) looked forward to seeing us, and we felt the same way." said Whitmer.
As a witness to their giving nature, Charles Koehler, longtime adviser, confidant, and executor of their estate, recalls his friends and clients fondly. "They were very humble people. They wanted to use the bounty of their good fortune to give others an opportunity." The Means celebrated their 50th wedding anniversary in 2000, just weeks before George's passing. Martha passed away in 2008. They were each 93.